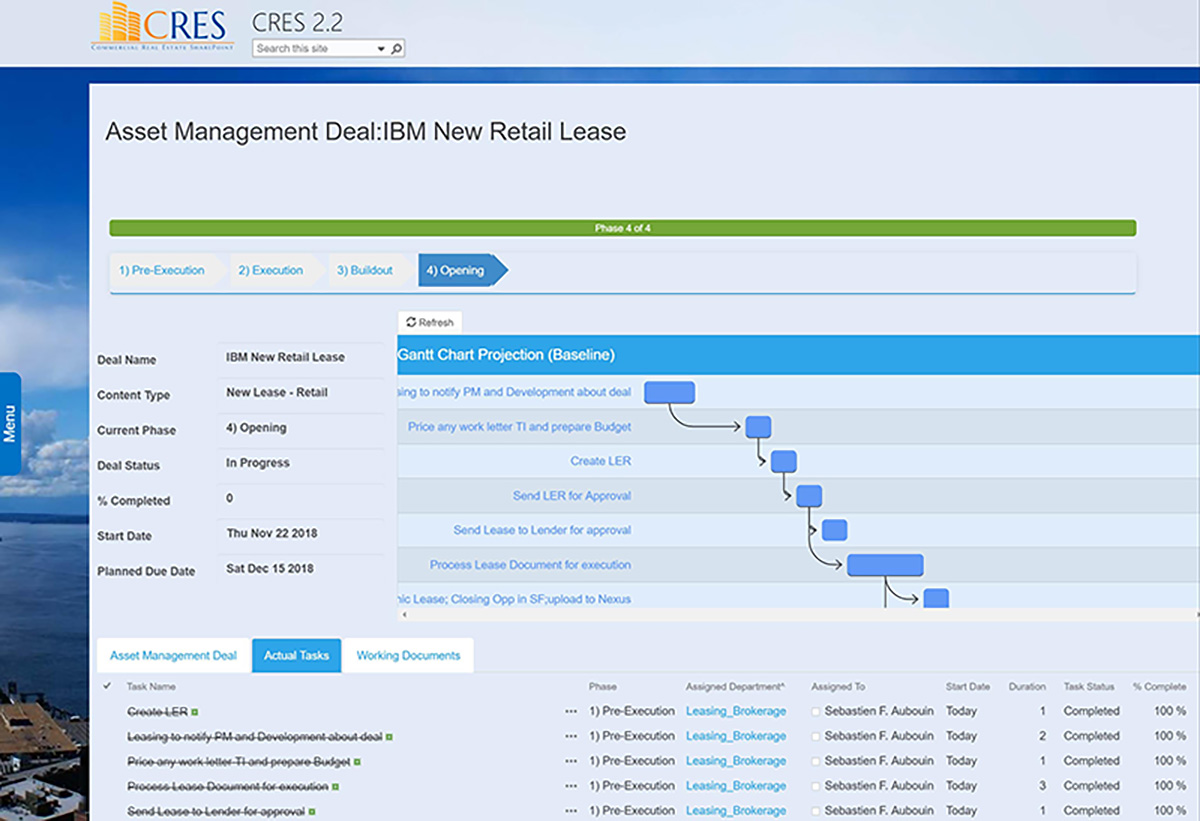 December 21, 2018 5:15 PM By Irfan Butt
Posted In:
What is Commercial Real Estate SharePoint?
As real estate software experts, we know first hand that most real estate firms struggle with managing and reviewing the loads of data they deal with on a regular basis. Today, it is assumed nearly 50 percent of real estate professionals use Office 365 and/or SharePoint to store their non-real estate documents. Commercial Real Estate SharePoint (CRES) is our proprietary web-based CRE portfolio management solution built on Microsoft's SharePoint platform. Providing a consolidated view of CRE data and documents, CRES manages business processes in a quick and painless way to boost productivity and increase visibility.
CRES is an organizational effectiveness tool that includes document management, business process management, business intelligence, and new features for Real Estate & Corporate Contracts Management, as well as Deal Management. CRES complements both Yardi and MRI, and deploys either on Microsoft Office 365 Cloud, on premise, or via hosted servers so you can continue working without the disruption of learning a new system.
4 Ways CRES Just Got Better
Corporate & Real Estate Contracts Management
CRES now offers a Corporate and Real Estate Contract Management feature that can handle corporate contracts made for vendors, departments, and legal entities as well as real estate contracts related to properties, tenants, and loans.
This new robust feature will manage all critical dates related to real estate contracts as well as departmental/corporate contracts with tenants and vendors. Based on the parameters defined during contract upload, CRES will alert specific departments or individuals before the contract deadline, thus ensuring that nothing falls through the cracks and no deadlines are missed.
Deal Management
Leasing deals, especially for retail, office, and industrial spaces are complex: they require participation of multiple departments to perform specific tasks—and coordination between them all. The abilities offered by CRES Deal Management help to avoid added frustrations and wasted time.
CRES can now automate Commercial and Residential Leasing Deals, as well as any property-related deals such as Acquisitions and Dispositions. This includes automated drafting of templated documents and assignment of predefined tasks to specific departments and individuals.
CRES's centralized dashboard shows a deals pipeline and automated deal-related work plan management. A Master Task List is used to predefine all tasks for each leasing deal type such as a new lease, renewal, expansion, contraction, or termination.
Once a deal is started, cascading tasks are created based on Master Task List. As initial tasks for a given leasing deal are completed, they trigger successor tasks, and so on, until the entire plan is executed and finished. The high level centralized dashboard shows all deals with their status on a timeline.
Barcode-Based Document Management
To further expand on the automation capabilities, CRES now has barcode management. So, for example, once a Word document is produced for a Property, Tenant, Loan, Department, or Legal Entity, a barcode can be automatically added to it. When the document is sent outside CRES and comes back in PDF or image format, the system recognizes it through the barcode and send it where it's supposed to go, thus requiring hardly any effort from you.
Automated Security Management
Finally, CRES now has easy, automated creation of security groups and manages their access to lists, libraries, and folders. Based on our product focus group feedback, we saw how specific departments were tied to management of various business processes and thought, why not tie these same departments to specific security parameters and access control? For example, a property management department may only need to view certain documents, while it may need to edit others. CRES access control ensures property managers don't tinker with documents they should not be editing, while allowing them appropriate access to the ones they are required to review and revise. As a plus, this feature ensures easier management of security for your company's IT department.
Additional CRES Features in the Works
At the Precipice of Cutting Edge
We are constantly innovating to find new ways to deliver value to the real estate industry. We recognize that most of our clients already use Office 365, so why recreate the wheel? This approach benefits our customers significantly since Office 365 allows CRES integration with all Microsoft applications such as Outlook, Power BI, Flow, and online connectors for any cloud or on-premise applications and databases.
CRES will soon offer Cortana integration, voice-based portfolio inquiries, and voice-based CRES searches. Cortana is Microsoft's digital assistant; just imagine asking her, "Hey Cortana, tell me about my portfolio" as you're hustling to hail a taxi or sitting with your corporate board. Cortana communicates with CRES and she responds, "Mike, your portfolio has 22 active properties. It is 97 percent leased, and 122,000 square feet is expiring over the next year. The current annual base rent is $18 Million." We are additionally prototyping the ability to dictate into text fields within CRES. For example, an asset manager will soon be able to visit a property and do a walk-through while taking notes verbally, or conduct a report using voice-based text dictation.
There are many more new and exciting capabilities for CRES in 2019, so make sure to check back in periodically for updates and new releases!