Empower yourself to use your data in Excel!
Real-time interactive use of your data

Drill-down to source data within Excel

Self-service - build your own dashboard and reports!

Create rent rolls, expiration summary reports, AR aging, and more!

Dynamically retrieve any data without being a programmer with the easy to use query designer!
Work with your data in Excel, without the headache!
Excel Automation Tools give you the ability to have a live link to your MRI or Yardi system in Excel – giving you the flexibility to perform quick and powerful analysis of information in Excel. These tools allow users to build a range of reports, from simple ad hoc workbooks to complex dashboard views of critical business data, all with an intuitive query designer.

Other report examples include Stacking Plans, Expiration Analysis, Business KPI, Dashboards, Sales Trends, Top 10 AR list, and more!

Other key benefits include:
- Distribute report packs via email, by entity/property, in a variety of formats based on your parameters.
- Use graphs, charts, formulas, or any inherent Excel functionality
- Work with multiple databases in one sheet
- No re-keying or downloading of data and no expensive configuration of data warehouses
- Share queries with other users in a query exchange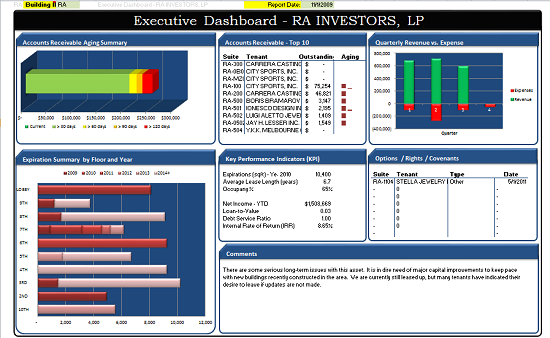 If you would like to join our email list use the "Contact" button in the top toolbar or email info@redirectinc.com .