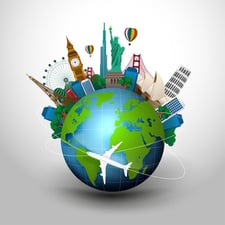 November 14, 2016 3:54PM
Say Ni Hao (and Hola, Ciao, Zdravutszye, and Bonjour) to Yardi International
For the multinational real estate investor, managing a diverse portfolio with varying currencies and tax rates is a challenge as rich as its potential. Fumbling the management of this complex undertaking can have equally deep repercussions. Often, success on the international real estate stage requires finding—and mastering—software technology that is as globally responsive and flexible as you and your investors.
Enter: Yardi Voyager International.
What it Does
As a web-based, database-driven software platform, Yardi uses real-time data on all your commercial assets across the globe to give you that competitive edge.
With virtually endless customization possibilities, you can configure the appropriate value-added (VAT) tax, business tax, property tax, or other national taxes, which, as any globe-trotting real estate investor knows, can be the subject of regular change. More impressive still, is that Yardi can automatically calculate individual investor withholdings on their distributed cash. This means that, even if you have investors in different countries, you can list up to three different tax rates instead of manually calculating for each investor.
But perhaps the most useful benefit of utilizing the International module is the ability to manage your assets in any currency you choose.
Yardi International not only allows you to track the performance of any given asset in the local currency—of both realized and unrealized holding gains and losses—and convert that performance into US dollars based on the day's given exchange rate. What's more, you can easily and fluidly manage these currencies across the investment spectrum. You can, for instance, make a capital call in Euro for a USD fund to an investor that will pay in British pounds, and Yardi International will calculate the correct amount for any of the three currencies and track whether you have a loss or gain on translation from the date called to the date paid. Ditto goes for consolidations: with Yardi International, by using separate "books" for different currencies (even in the same accounting basis), and Yardi will roll up your consolidations to the appropriate currency for the reporting entity.
Other key capabilities of Yardi International include: local language invoices and reporting; invoicing per country (including credit notes and document sequencing); square meter to square feet conversion; and more.
And, as goes with any Yardi product, Yardi International users will also benefit from its powerful reporting capabilities, unlimited user capacity, ever-evolving high-level data security, to name just a few.
Improvements on the Horizon
At the recent Yardi Advanced Solutions Conference in Anaheim, we got a sneak preview at several updates and improvements that will make international real estate investment and management easier and more streamlined than ever. Take, for instance, the upcoming enhancements to the Investor Plus Plugin, which will soon be able to perform acquisitions and dispositions forecasting with the same global flexibility and adaptability as the core International Module functions. For example, if you have a planned acquisition in the works, you can customize the data entry templates based on any given stage of the acquisition process in any given country—replete with that country's tax or insurance rates—and watch it move through the process and becomes an opportunity to seize.
Another highly useful evolution will be in the way in which ownership transfers are managed. Previously, when a portfolio is bequeathed to several benefactors, distribution is often messy and confusing, especially if the various new investors are spread across the globe. Soon, though, ownership transfers will be a seamless—and profitable—experience for all.
A Sherpa for Your Journey
Whether you've been using Yardi for years to manage your US assets, or if you're completely new to the Yardi world of real-time, database-driven, incredibly customizable and flexible reporting capabilities, it is strongly recommended that you do not take the plunge into Yardi Voyager International alone. With a world's worth of currency conversions, tax regulations, and increasingly demanding investors to juggle, it is wisest to take the journey with a trusted advisor who has travelled the silk road of international real estate before.