Case Study - Mack-Cali: Migration To Yardi For Publically Traded Reit®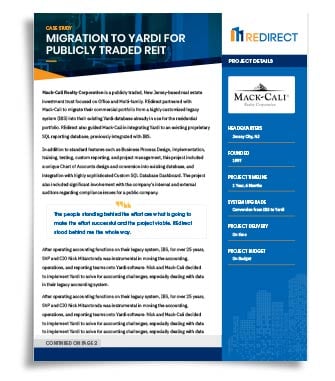 eBooks
Case Study - Mack-Cali: Migration To Yardi For Publically Traded Reit®
Mack-Cali Realty Corporation is a publicly traded, New Jersey-based real estate investment trust focused on Office and Multi-family. REdirect partnered with Mack-Cali to migrate their commercial portfolio from a highly customized legacy system (IBS) into their existing Yardi database already in use for the residential portfolio. REdirect also guided Mack-Cali in integrating Yardi to an existing proprietary Sql reporting database, previously integrated with IBS.
REdirect Consulting stores emails for our own reference. We won't share your email communications with any third parties for marketing purposes without your permission. If you would like to learn more, please call us or visit our Terms of Service or Privacy Settings page.
Forms marked with * are required.