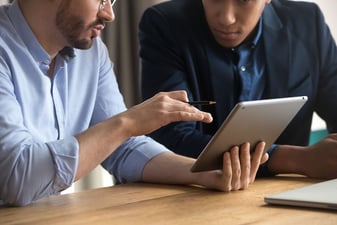 September 14, 2021 10:00AM
How to Onboard a Newly Acquired Property: A Checklist for Operators and Property Managers
Having prospective clients seek you is a major sign of success and speaks to your strong reputation within the industry.
When you begin onboarding a new client, it is vital that you make an excellent first impression. This means creating an onboarding process that is smooth, seamless, and professional. In this post, we will discuss how to onboard new clients and properties into your system of choice and ensure your processes facilitate a strong working relationship with your clients during every stage.
Correctly onboarding a property also ensures you have access to the reporting you need to monitor and improve performance. You can compare properties, track financials, keep an eye on maintenance issues, and monitor outstanding issues from the moment you input the property into your system.
Key Information
Whether you use MRI, Yardi, or a different real estate software, it is imperative to include all of the key information when onboarding a new property. Most systems require only a few basic elements, such as the property ID, property name, and charge codes. You'll also want to ensure proper setup of the Chart of Accounts and cash accounts.
The more data you include at the beginning of the onboarding process, the better you'll be able to update, streamline, collect, and analyze in the future.
Here are some of the items we consider crucial when onboarding a new property:
1. Roles: This is for the relevant staff assigned to the property, such as property manager, regional manager, and property accountant.
2. Unit Types/Classification: This is a great opportunity to evaluate the assignment of units to their respective unit type/class.
3. Charges: Determine what charges should be assessed during application, move-in, and move-out. Units:
If the property is based in New York:
Verify the unit address or unit numbers are in the DHCR database.
Put the apartment number on the second address line, rather than on the same line as the street address.
Make sure the unit rent = legal rent to enable an easier population of the legal rent field.
4. Amenities (if applicable): Determine if the property has amenities. They will need to be set up at the property level and assigned to the respective unit.
5. Rentable Items: Will the property have rentable items, such as garages or storage units? Rentable item types will need to be created first, followed by the individual rentable items.
6. Add Residents:
Rent control residents should reflect either an expired lease or a lease that expires in the future to ensure the resident does not receive a lease renewal in error.
If there are past residents with a deposit on hand, determine if they should be added so deposit accounting can be processed.
Remember to add applicants. They may not appear on the reports provided by the seller.
7. Lease Charges: Add the recurring charges for the residents. For New York properties, ensure the DHCR and fair market rent codes are correct.
8. Bank Accounts or Setup Check Format: Create and assign the bank accounts and/or check format.
9. Open A/R: Add the security deposits and open A/R.
10. Open Payables: If applicable, create the open payable invoices.
11. Rent Bills: Ensure the rent bills are created for the new property.
12. Property Lists: Add the property to the existing property list(s) or assign it to the agents who will need access to the new property.
13. Interfaces: Complete the interface setup for all applicable interfaces.
14. ILS: Be sure to set up the marketing sources/results and reasons.
During an acquisition, obtaining all of the information above can sometimes prove to be challenging, but dedicating adequate time to successfully onboard the property will save you time and money later.
Communication Is Crucial
The onboarding stage is the most important part of the client lifecycle when it comes to building trust. Your client is trusting you with the management of a valuable asset. They need to know their trust is well placed. Keep in touch at every stage of the process by letting them know what is happening, and keep them informed about what to expect from you.
In the case of a newly acquired property, establishing a strong process and setup at the beginning helps to strengthen the team and ensure an easier transition for everyone involved.
If you need information from them, give them plenty of notice so they have time to get it for you. Some experienced property owners may have information like banking and insurance details on hand, but do not assume. Instead, clearly let them know what you need, for what purpose, and when.
Unavoidable issues do sometimes occur, but you can minimize the damage with proactive communication.
The Personal Touch
Which member of your team is going to be managing this property? Ensure that you introduce the client to their property manager as quickly as possible. Good business is built on good relationships, so it pays for your staff to spend a little extra time getting to know the client.
If more than one member of your team is involved, clearly defined roles and responsibilities will be useful for both you and the client. Be clear who is responsible for which phases of the process to ensure accountability.
Train Your Team
Do all your team members understand exactly what is expected as part of the onboarding process? If not, it's time to run some property onboarding training. This will ensure that a consistent process is followed and that every property and client receives the same treatment, regardless of which team member is taking care of them.
You can also go a step further by involving your entire team in the creation of your onboarding process. Ask them what steps they take when onboarding a property, what they find most helpful, and what they think should be included in the company-wide process.
Create a Checklist
Onboarding new properties will run more smoothly if you have a clearly defined process for your team to follow. Create a process checklist that your team can review each time they need to onboard a new client or property into your system.
Be clear about exactly what needs to happen and at what point in the process. What information will you input into your system? (You can use our recommended list above as a starting point.) When do you need property photos and online information? Ensuring that you follow a process will reduce problems caused by human error, catch small mistakes before they become major, and ensure every client receives the level of service they expect. In property onboarding, consistency is key.
Need Extra Help?
Do you need a little extra help building your onboarding checklist? Can we help you set up some automations into your system to manage some of these processes for you? Could your staff use a little extra training around onboarding a new property into your system?
Drop us a line and connect with a member of our friendly, knowledgeable team to get started.