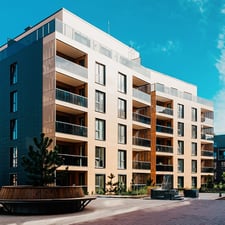 May 20, 2020 10:00AM
The UK Build-to-Rent Boom: What it Means for International Real Estate and How to Take Advantage
Build to Rent (BTR), which describes properties that have been designed ONLY for the purposes of residential renting, rather than sale, is one of the fastest-growing sectors in real estate. These developments are usually owned by companies and let directly, or via an agent. BTR can refer to both multi-family and single-family developments, making a wide-open market available to investors.
In many instances, BTR is mutually beneficial for landlords and renters. The 2019 UK Homeowners Survey showed that 4 in 10 renters are stuck in cold, damp properties where landlords do not keep up to date with maintenance or repairs. Thirty-five percent of renter respondents also felt their flats were of poor quality. Fortunately, BTR properties can allay some of the issues that both tenants and investors face when it comes to residential renting.
The Benefits of BTR for Tenants and Investors
Build to Rent blocks usually have better facilities than individual apartments. For example, some BTR schemes offer ultra-fast broadband and access to an on-site gym included in the rent. Others have concierge services to handle bookings for tenants or to take in deliveries and messages. A few have high-end communal services like a media room, a lounge area, or even a swimming pool, and most will allow tenants to keep well-behaved pets. Below, we take a deeper look at the benefits that BTR brings to the table.
Financial Benefits:
Longer lease period options (often three years or longer) are the norm, which is beneficial for both renters and investors (long-term stream of steady income).
Leasing amounts are clearly laid out with information and formulas on how increases will be put into effect, making this common point of contention easier for both landlords and tenants.
The development is maintained by one landlord with on-site management, which makes getting any issues—including repairs—resolved faster and simplifies management for landlords, often at a reduced expense.
Attracting Long-Term Tenants:
BTR is attractive to all demographics, but especially to millennials who seem to be moving away from home ownership.
No up-front fees other than a deposit and any required advance rental amount, which is attractive to potential renters.
Many BTR communities offer amenities like workspaces, gyms, event spaces, free education classes, and laundry, which are attractive to renters. They also often offer more upscale interior options not usually found in typical rentals, such as stainless steel appliances, quartz countertops, and hardwood flooring.
Local authorities also have a stake in Build to Rent as affordable housing within the development will be a consideration. During the planning process, authorities will consider the need for housing in a given area: "If a need is identified, authorities should include a plan policy setting out their approach to promoting and accommodating build to rent." This will then lead to a number of homes being set aside to provide for affordable private rented homes, usually around the 20% mark.
Taking Advantage of BTR
The BTR market is expected to continue expanding for years to come since these properties are:
Attractive to numerous demographics
Gaining popularity as a choice to call "home" for many people
As a result, some investors are taking advantage of the BTR market by buying and then transforming distressed areas into BTR complexes. Others are taking advantage through crowdfunding or building brand-new communities that follow the BTR concept.
Curious about technology to help with development, management, BTR, or any other real estate investment area? Contact us—we're the experts in real estate technology consulting, and our goal is to help real estate professionals realize investment success.