Case Study - Brian Properties: Automating To Keep The Team Streamlined®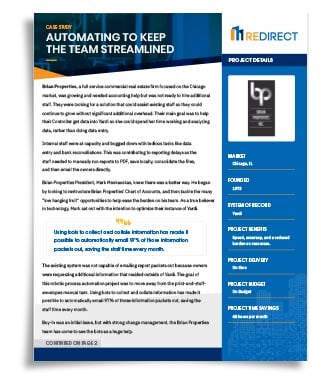 eBooks
Case Study - Brian Properties: Automating To Keep The Team Streamlined®
Brian Properties, a full service commercial real estate firm focused on the Chicago market, was growing and needed accounting help but was not ready to hire additional staff. They were looking for a solution that could assist existing staff so they could continue to grow without significant additional overhead. Their main goal was to help their Controller get data into Yardi so she could spend her time working and analyzing data, rather than doing data entry.
REdirect Consulting stores emails for our own reference. We won't share your email communications with any third parties for marketing purposes without your permission. If you would like to learn more, please call us or visit our Terms of Service or Privacy Settings page.
Forms marked with * are required.